Welcome to the New AuctionGuru.Com.My
Date: 19/06/2014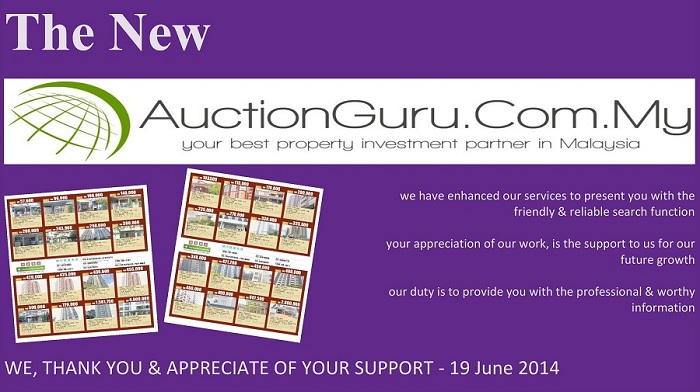 Today, we are proudly presently to you, our new AuctionGuru.Com.My's website. For those who have yet to join our member, come to experience the new AuctionGuru.Com.My.
At AuctionGuru.Com.My, we have enhanced our features & information, easy navigation and we have responsive layout. You can easily find all the latest foreclosure properties information here. The website comes with limitless search for any foreclosure property information, anytime, every day. We help you to organize the foreclosure properties information in Malaysia and make it universally accessible and useful.
We have what you're looking for. There's no better time than now to join AuctionGuru.Com.My.
If you're looking for a place to advertise at AuctionGuru.Com.My. Book you're Corporate Advertisement space at the Best Rates with AuctionGuru.Com.My.
We can be contacted at Tel: +603-6205 3325 Fax: +603-6206 1309 or email to us at enquiry@auctionguru.com.my.